Is everyone in the office tired of the same old birthday parties your team throws? Change it up a little for your squad with these simple and easy tips: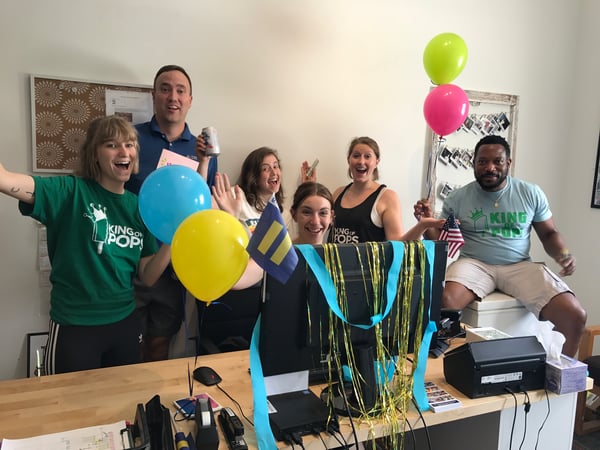 Shock the system by scheduling it up differently. Everyone expects the party shortly after lunch. Instead, make it mid-day, or an hour before it's clock-out time. This is already a sluggish part to the day. Change it up to make it the fun part!
Go outside! Nothing says boring office birthday party like being under the fluorescent lights!! Take the team outdoors and get everyone a little vitamin D (from the sun, you know).
Get some tunes going. Get a DJ for an hour or two, have them play up some of the birthday boy or girl's favorite jams. Nothing shows care and consideration for your team like hand-picking some of their favorite songs on their B-day.
Make it an experience. Get cornhole boards, giant Jenga, team Twister, or even a slip-n-slide (I recommend you tell everyone to bring a suit)! Try out some fun and exciting new things that will make your folks be talking about it to their friends for weeks!
Shake up the food / dessert. I get it--cake is what everyone is comfortable with. Throw a giant curveball by coming up with some unique offerings! Who wouldn't love some Raspberry Nutella Shots, Cannoli Bites, or even a Cookie Dough egg roll?? Instead of pizza or sandwich bites, try some panini's and stuffed mushrooms!
There's tons of other things to try, but the main point here is try something new! Be adventurous! Your team will be excited that you did, and it won't be the same schtick every time!