We get told pretty regularly that King of Pops seems like such a fun place to work. Yes, it's true, but it takes a ton of hard work to facilitate all this fun! My favorite way? You guessed it: the annual fantasy football league!
We lovingly call it the Gridiron league, but you can call your league whatever you want! I've heard great names like: Tecmo Super Bowl Challenge, Pigskin Pandemonium, or even the Renegade League. It's totally up to you! Make it a paid-league (people typically take this more seriously), or just a free-to-play league!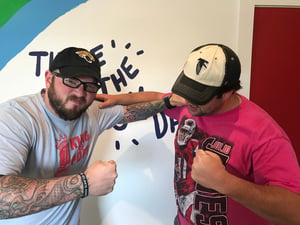 Here are some additional keys to running a great fantasy football league:

1. The Commissioner is King! First thing's first: find the right commissioner. You need to get someone passionate about football, and that will keep the league energized through the loooong 13-week regular season. The commish should own the draft day, the rules, and the trash talking in the office. If the commish fails, the league will die--and consequently bring no energy to the office.
2. Draft Day is the Newest Approved Holiday! Get your jerseys and caps out! Draft day should bring a lot of fun to the office. Whether it is wearing your favorite team's *ahem* Jaguars *ahem* swag, or putting on that Phil Simms jersey that hides in your closet 364 days each year--the goal is to rep who you love. Bring it all to the office, and share in the fun. Cater lunch (typically wings or other pub-style food), and make sure to get everyone out early enough to get to the draft party! Eye black is not a requirement, but definitely a recommendation.
3. Keep the Energy Going!! This is a tough one, especially if your owner keeps winning the league (you're just lucky, Steven!), but make sure you're keeping up with the league and chatter. Create a GroupMe or a #slack channel to get everyone to stay engaged. Posting notes in your co-workers office, writing on whiteboards, or even leaving notes trash talking your opponents are some of my personal favorites. The P10 folks (our distribution company) will change your desktop picture to your favorite QB taking a devastating sack. Anything is open, as long as it's fun.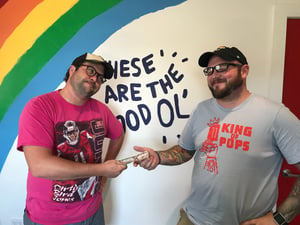 Lastly, the league champion needs to be celebrated! Make sure that you pay out when the time comes (in the case of a paid league), and hold some sort of celebration ceremony in the office. This is your last, great opportunity to have some fun with the league until you set that draft date later that year. Remember--this is all about having a great time in the office! Take the time to make it awesome!