Trying to think of ways to treat your tenants to a fun afternoon? We had a cookout a few weeks ago that was a HUGE success. We invited the team, their families, and of course our neighbors. With a little effort, you could also create a great afternoon for your teams.
Step 1 -- Picking the right time and the right place
This is an easy one but frequently glossed over--right time, right place. Make sure that you schedule a time that your folks can make it to. Be considerate of what your businesses look like, what your neighbors work, and what is the busiest time. Be sure to avoid.
Step 2 -- Getting the message out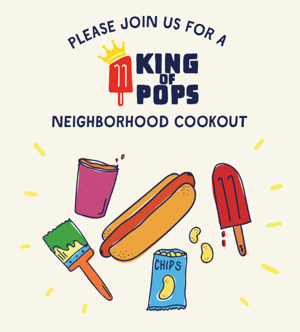 We created a cool flyer, shared it with close businesses and neighbors. We also use Slack as our preferred communication tool internally, so we blitzed that (do a message a week out, the night before, and a same day reminder).
Step 3 -- Food matters
Sure, people will show up to your event, but will they have a good time and stay? That's up to you. Take some time being considerate to everyone showing up by putting together a diverse spread of food and beverage. We did a brisket, hot dogs, mac and cheese, some vegan slaw, and a few other tasty fixings. Of course--we are a pop factory, so the dessert is pretty easy for us, but make sure you've got some great sweet treats! When it comes to beverages, make sure you offer a healthy variety of options including some fresh hops for adult consumption.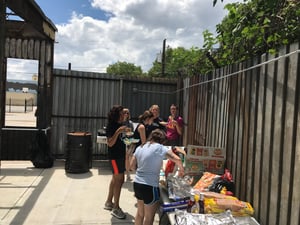 Step 4 -- Put in the work
One of our core values is Get It Done. In this case it means put forth the effort to make this event great. That takes time, planning, and ingenuity. Also--lead by example. Our leadership team prepped most of the food, served, and greeted everyone that showed up. It was pretty hot out there, so the event also touched on another of our core values: Get Sweaty.
Step 5 -- Finishing touches
The last step is also the one that really seals the deal. You need to go the extra mile with the folks that come out to your event (or in your case--your tenants). We had some fun activities like giant Jenga, cornhole boards, and our owners gave tours of our new facility. We showed off our pop creating muscle, chatted with everyone, and had a couple of beers for good measure. The main point here is don't go half way. Make sure you do 'one more thing' to make the folks that show up have a great time.
Having a great event for your tenants, neighbors, and staff can be easy. Take the time to do some great planning, have fun, and get everyone excited about it.
At King of Pops, our purpose is to create unexpected moments of happiness.